For once I'm not going to talk about road trips, but this adventure was so extraordinary that it had to be told …
It all started this summer when I wanted to try surfing. Nothing special so far except that I immediately felt in love with this sport. Fan of snowboarding, I'd never dared to try surfing, because I have to admit I was a little bit scared of the big waves! But when my friend, who is a surfer himself, made me practice on the little waves of Normandy, I realized that it was pretty safe and even less painful than falling on ice with the snowboard! All summer I've been telling my friends on facebook how great it was and how much I enjoyed it, so when I heard on the radio they were offering a whole week to a surf competition, it was like my duty to participate to the game! And guess what, I just won the first price : one week all inclusive to attend the Roxy and Quiksilver Pro France (female and male international surfing competition ) with 3 of my friends. How incredible is that?!
So this is what I was going to attend:
Well, now I'm going to tell you how an all inclusive VIP week -watching the best surfers in the world- looks like:
1 They privatized a whole villa for the winners of the radio contest
When we arrived to the place we were supposed to get to, we were told that we were 10 winners who have been picked among 8000 participants (well 4 winners + their guests friends) but 2 couldn't make it so we were going to be only 8 to share the Surfer's Villa which was privatized just for us the whole week … The villa was like a high standard hostel, where you could definitely tell you entered the surfing world : giant poster of Kelly Slater on the wall, bedroom doors tagged with the names of famous surfers … We already knew it was going to be amazing!

2 They cooked plenty of quality food for us
Every morning we had a huge breakfast with delicious fresh baguette, served at the villa. And for lunch and dinner, a Chef named Pauline has been especially hired to cook delicious and healthy meals for us. Sometimes we had dinner between us but sometimes we shared it with the Quicksilver Pro team who was working for the competition, once we had a picnic in front of the lake, another time in the dunes for the sunset… In one word : we were totally spoiled … and I thought we were going to have industrial sandwiches and potato chips every day! Oh, and did I mention the wine and Champagne?
3 We had surf lessons everyday
What better way to eliminate all the food we had than by going paddling on our board in the waves? Every morning, after breakfast, we had a 5 minutes walk from the villa to the beach of Seignosse … So not only we spent a very cool week, but we also became pros at surfing! What, you don't believe me? This is what we learned thanks to our great surf teachers:
look straight towards where you want to go
bend your knees
open your arms
And here we go: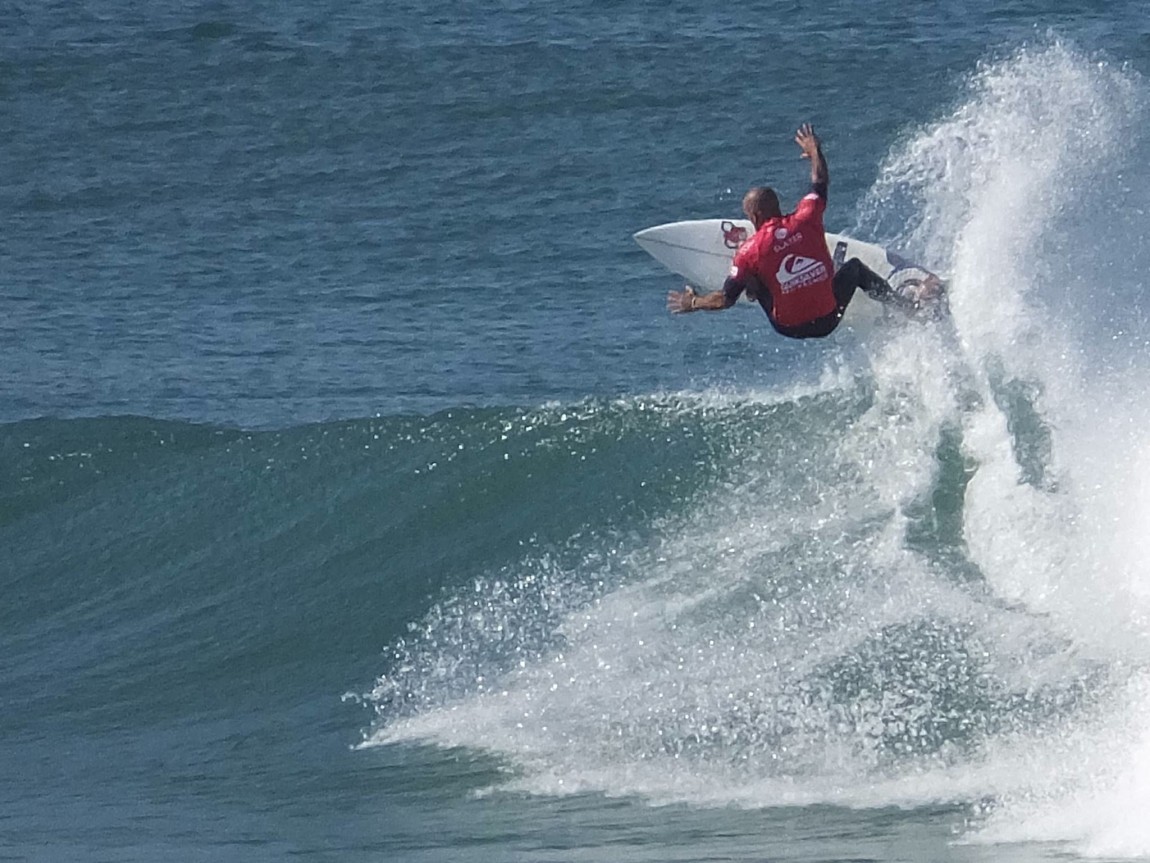 Well, alright it actually looked more like this …

4. Hips and hips of activities were planned
Like if surf lessons were not enough, they also planned many and diverse activities for us: they rented California style bikes to move around and visit the area, they initiate us into slake line and indo board, provide us with a ping pong table, and even lend us a longboard (like a long skateboard this time) to learn how to skate! Not to mention the concerts and trendy bars in which we were taken at night … It was impossible to get bored for only one second.
Concert and glass of wine in the Quiksilver shop of Capbreton – Virgin Radio concert in the city center of Hossegor
5 Did I mentioned the shopping already?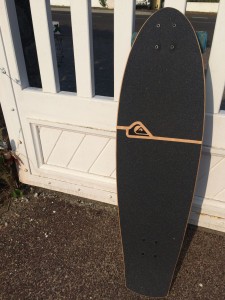 How to thank the brand which paid for everything ? I guess by using the 200€ Roxy/Quiksilver vouchers we got to buy anything we like! And that's how I became the new owner of this little baby :
.
.
6 What about the VIP access to an international surf contest?
I have to admit that, wearing the VIP wristband and ending up in the boxes above the beach just beside the pro surfers, had an exhilarating effect on us. Should I say that we had unlimited food and beverage again? Not to mention hips of specific solar products samples … we could watch the replays on TV and our surfing instructor explained everything about the competition, how it works, how the points were given, what the judges were looking for, what are the names of the figures … It was like we were born as surfers!
With our surf instructor Cédric – John John Florence in the backstage area (the one who just won the competition !)
7 We also had the chance to meet the pros and get some autographs
This is how I got my cap signed by top surfers in the world. Well this time, I had to queue like everyone else, except for our favorite Frenchie Jérémy Flores (who by the way is handsome as hell), who kindly accept to sign my cap after my friend threw it to him over the fence! Then I waited in line 30 minutes at the Rip Curl shop to see Mick Fanning, Australian, 3-time world champion and Gabriel Medina, 20 years old Brazilian, current leader of the championship … I regret not having done the same in front of the Hurley shop, where John John Florence was because he won the Hossegor competition afterwards. Anyway I am actually very happy with my hat 🙂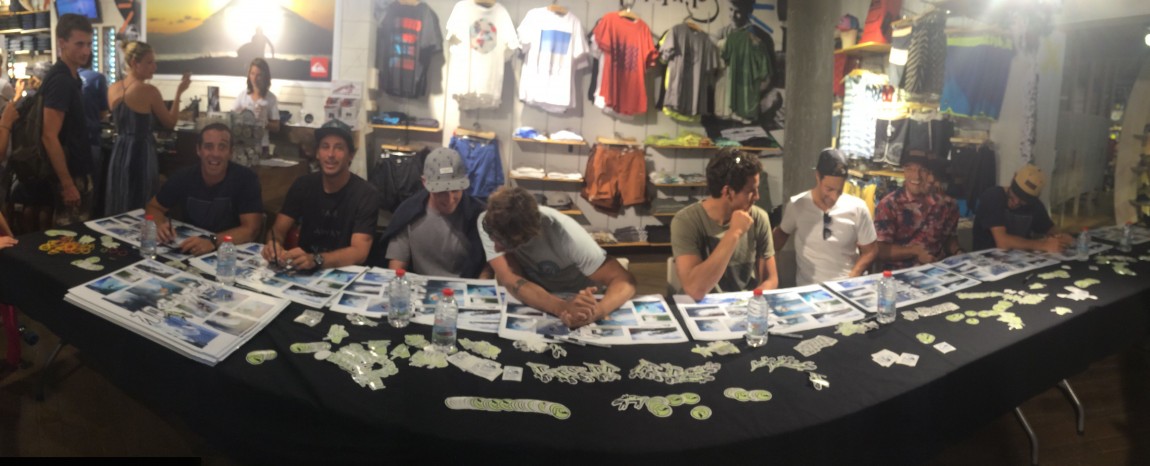 Quiksilver surfers ready to sign autographs to the fans.. Among them is the French hottie : Jérémy Flores
Is it me, or is it hot in here?!
Mick Fanning – Gabriel Medina
8 Great people, great mood, great atmosphere
Not only the other winners of the game were all very nice, but also the team that took care of us was also very sweet and very caring. All the ingredients were there to spend one of the best holidays of our lives…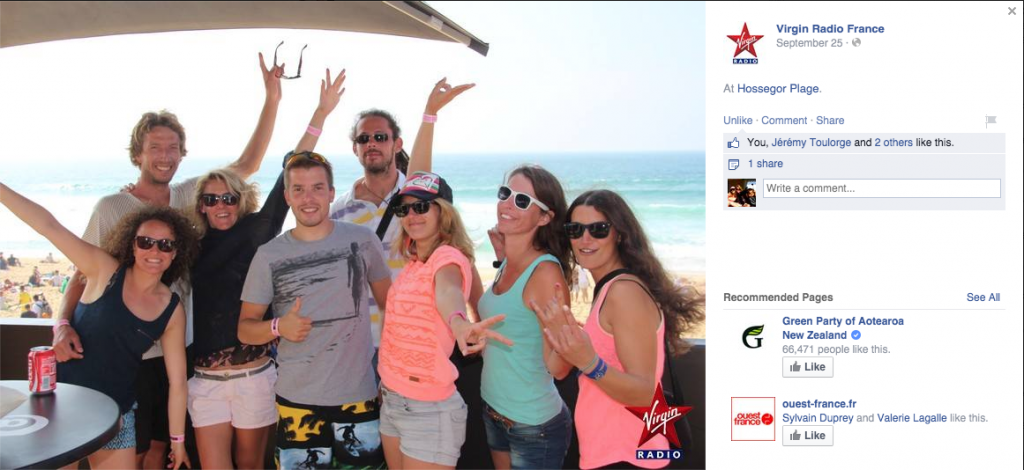 The winning team on the radio station facebook page!