Probably one of the most beautiful experience of my trip to Australia.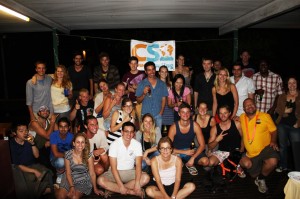 I vaguely heard about couchsurfing before, but I thought, going to sleep on the couch of people we don't know, what a strange idea, especially as a girl on her own, this is a bit crazy …
But after spending a few days in a hostel with a friend, she told my about it and suggested we try to look for hosts. Very quickly she was contacted by a person willing to host us both. That's how we arrived in a huge apartment in the suburbs of Sydney, with our own bedroom and bathroom, and a big terrace with a view of the city. We felt like princesses! We stayed one week, during which we discussed, shared meals and drinks and we even went dancing with our guests (two roommates). So this was my first couchsurfing experience, and it was definitely a success.
When I arrived in Darwin, I spent another week in a dirty hostel where I didn't meet anyone coz all the girls of my dorm were either working or sleeping. So I decided to look for a couchsurfing host again.  I already had made foreign friends, so what I really wanted was to experience the Australian way of life. As this was my first time by myself, I decided to look for a female host, and I found Amanda, couchsurfing ambassador of the city. She didn't really had space for me at her house but as I was sleeping in a van, she agreed to meet me because she had a lot of boys lately and a bit of femininity could not hurt she said! She allowed me to stay one week at first, but as it was going well she told me I could stay as long as I wanted, if I was ok to pay a small compensation for water and electricity (living in a very clean big house and experiencing Australian life, for a cheaper amount than for the dirty hostel full of backpackers : I had found the perfect plan!). Unfortunately my host was working everyday and was quite busy afterwork too, and I was never here when she was home, so we saw each other very little in the beginning. Only at the end we were able to share a lot of dinners, one crazy night out, and the best national park experience ever : a wonderful weekend in Kakadu National Park with a dozen other friends / couchsurfers (more details in a future article). She also hosted several other couchsurfers at the same time, which allowed me to meet other exceptional travelers, all with incredible stories. Some of them even became good friends of mine (this is for Laurent from Trippin' Australia who I met there). I stayed almost two months at Amanda's with her lovely sister and mother, and I have so good memories of this place! She even helped me find my first little job that allowed me to get some experience and to find other jobs more easily later. I owe her a lot.
A month later, I arrived in Perth, and because I only had very positive experiences, I wanted to couchsurf again … The problem was that we were three girls at that time, and it isn't easy to find a place available for more than 2 persons. So we posted an ad on the Couchsurfing.org website, explaining our situation and what we were looking for. Very quickly we were lucky enough to be contacted by an extraordinary man named Matt. When we arrived at his place, he was not even at home but we were welcomed by other couchsurfers! Later, when he came back from work he made us feel very comfortable and told us we could stay as long as we wanted … Woh, crazy! I stayed two months as well. And it was also a very unique experience. Matt was not only an outstanding host, extremely kind, but he allowed me to meet great people, with whom I developed strong connections. People whom I saw later in Australia, with whom I shared road trips, and whom I'm still seeing after being back to France (This is for Betty who invited me to Oktoberfest in Munich and came to visit me one year later in Paris for La Fête de la Musique, and for Johanna who came to visit me in Paris for her birthday). My heartbeat is still raising today when I think about all the special moments I had the chance to live and the wonderful friends that have become part of my life today.
I will not deny that I was very lucky to meet these « long term » hosts who had such an inner richness, goodness of heart, and boundless generosity. But I am not the only one who had this chance, so I would definitely recommend every traveler to try it one day.
So how do you join this community of couchsurfers? Open mind and respect are essential qualities. Sometimes some hosts have strict rules (no music after 10pm, using the shower at certain hours etc.) and sometimes they just count on mutual respect. Regardless, the important thing is to respect the people who are hosting us with the greatest kindness. They invite us to their homes, share their intimacy with perfect strangers, so obviously politeness and good manners are essential. And if you are not comfortable with their ways of life, just go your own way. These are not free hotels, so it is essential that everyone feels good and lives in harmony. If free accommodation is your only motivation, and your plan is to lock yourself in your bedroom without sharing anything with your hosts (food, good mood, activities, guitar …) then couchsurfing is not for you!
If you haven't tried it yet, I can only recommend it. For me it's the best way to meet locals, live their way of life, share their traditions and customs, benefit from their knowledge of the region, and improve the language!
Thanks to facebook I keep in touch with most of them. I try to return the favor if they need to be hosted in Paris, and I'll do everything to meet them again somewhere in the world …